We call it a widget. It's a little box that shows a limited opportunity to buy at a discount. It can be a 'one off' or a whole lot of them.
It tells the consumer exactly what to expect when buying this discounted product. Once it's sold, the widget it gone.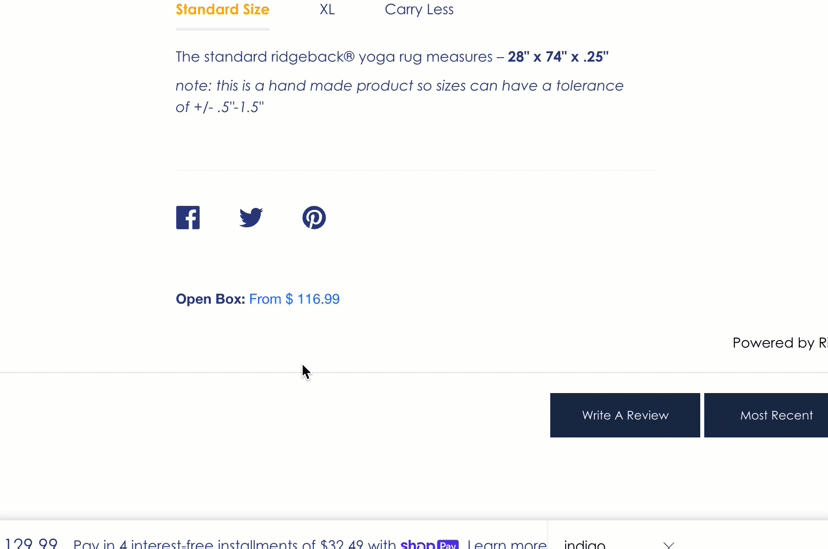 Returns and/or damaged goods that then can't be sold as new.
We have a method that works. It's clean, simple and they will own the sale and the customer.
Why it's so great, unique and professional
100% 5 star reviews in the Shopify App Store
Clean backend, unique returned products become a new Shopify product and delete when sold.
Connects directly to the product catalog making post time in < 1 minute
​
Optionally, DRIP 1% a day to get maximum return on the open box.
Own the customer, sell it direct, maintaining future marketing and cross selling.
Customized widget with branded colors.
5% of the sale

Premium Version for customization, additional $20/month
PREMIUM PLAN: FULL CUSTOMIZATION / One Line Widget
​
Our app is not a simple one to build and it's ongoing maintenance and innovation. We continually improve.

The alternatives are:

Amazon: so expensive it's hardly worth mentioning and you don't own the customer

eBay: about 12-15% and you don't own the customer and it takes a lot of time.

Craigslist: free and a good local option, but a hassle.

Offer up: see craigslist.

In house sale: Always a great option but… do they have a physical storefront?
AFFILIATE OPPORTUNITY: We give you 20% of our cut for 3 years! We simply paypal you the money every month. You'll have a dashboard to see your customers and sales.
AFFILIATE CLIENT INCENTIVE:
As your customer, we will allow you to offer in the Premium Plan at no monthly fee, forever by using your personal link we provide or connecting them with us.